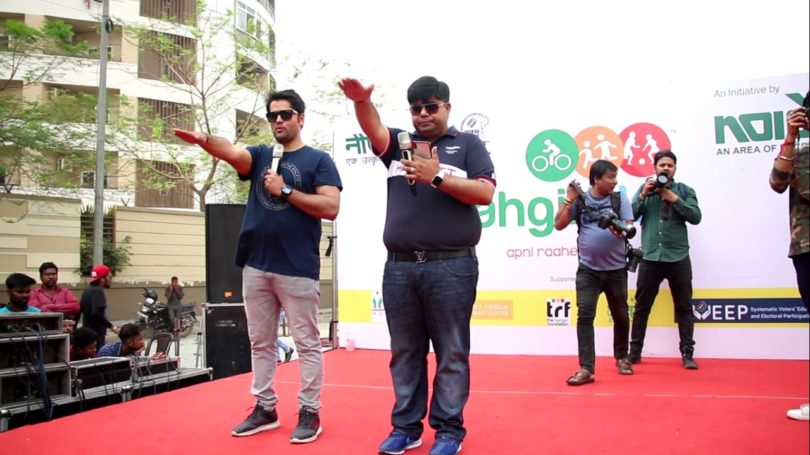 Noida :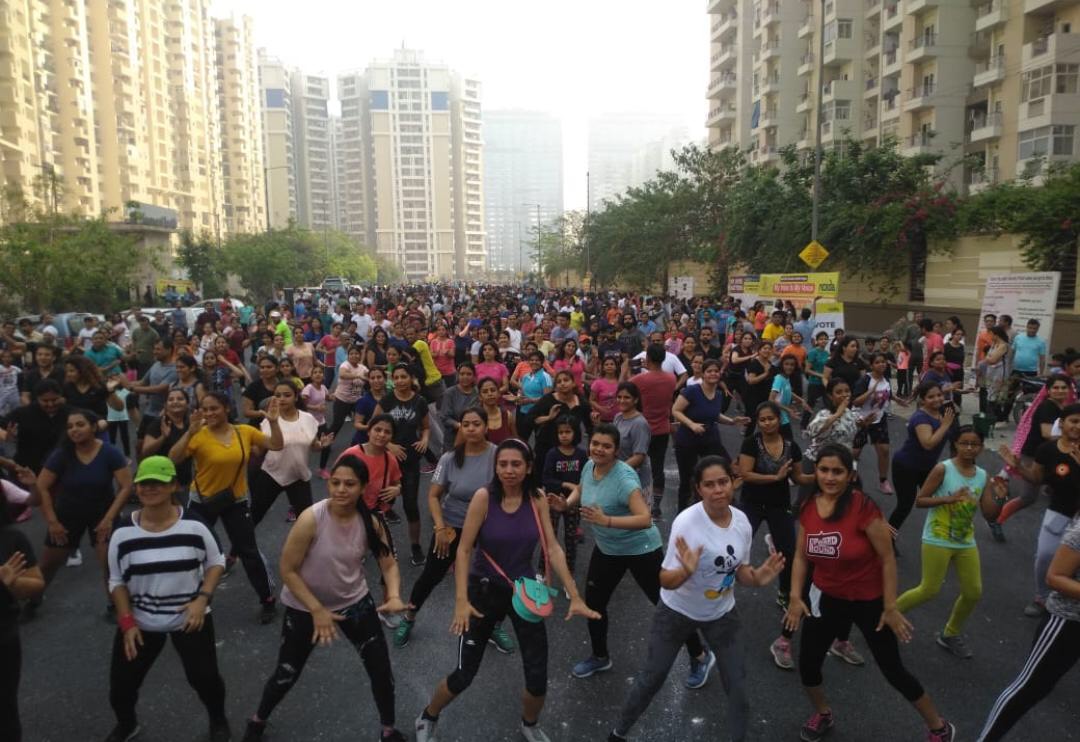 9th Raahgiri Day Noida kicked off at it's new location sector 137 with much celebration and life. Street was reclaimed by the residents of sector 137 with over 30000 people attending Raahgiri day with friends and family. It was the biggest Raahgiri Day till date in Noida. Shri Rajeev Tyagi, GM Noida Authority and Incharge of SVEEP put up a stellar show to display that Noida is gearing towards walking and cycling utopia.
Raahgiri Day is an open street event where 1- 5km stretch of road is blocked to prohibit entry of car on the street. It is based on the Columbian event "Ciclovia" which started in the Columbian city of Bogota.
Raahgiri Day began with Zumba dancers conducting high intensity and sweat drenching exercises to make people feel energized. This was followed by yoga to help people tranquilize and calm their mind, body and soul. To relax people's muscles and stretch them seasoned aerobic trainers conducted a session. The idea to begin Raahgiri Day with powerful exercises and yoga was to help people have a healthy and sustainable lifestyle as nowadays due to very sedentary jobs people are not getting time and opportunity to focus on their health.
Activity zone included creative activities. Artists from the neighborhood were teaching children to draw and paint. Mats were spread out to teach children Karate. Kids were also taught music by musicians from nearby music school. Raahgiri Day makes sure such creative activities are conducted because of the current lifestyle where most children are either hooked on to mobile phones and television often they do not spend time in the open and enable their creativity to flow and express it through a medium.
Other activities that packed the blocked street included skating and running. Kids were seen swaying their way between people on their skates. Kids were also seen enjoying painting using water colors and sketch pencils.
Elections are going to be held in Noida 11th April. To display the importance of election in a democratic country like India, a nukkad natak was showed where people enacted an audience interactive skit on importance of voting and made the audience to pledge that they would vote in this year's election. SVEEP (Systematic Voters Education and Electoral Participation) booth was set up which educated and provided information on the process of voting. Young adults who are first time voters were taught the imperativeness of their vote. People were given information on how the EVMs work and how they could verify their vote using VVPAT. Voters can find the nearest polling station by sending an SMS ECICONTACT to 1950. Voters are advised to carry their identity proof, which are driving license, passport, AADHAR card, voter ID etc. 7+ cards enlisted under ID proof to their polling booth. Raahgiri is also being called Chunavgiri by the residents. Eligible voters can also call 1950 for helpline.
Overall, vibrancy of sector 137 Noida was apparent with people walking, running, exercising and being involved in plethora of activities and reclaiming the streets. Raahgiri Day evidently showed that less use of cars can integrate society for a healthy and sustainable living. Next week, 13th April 2019 Saturday Sector 137 will hold Sunset Raahgiri, which will happen from 5 PM to 8 PM. This will happen second time in India as first Sunset Raahgiri also happened in Sector 18 in Noida.